What a great peony season we had.  April brought lots of sunshine with it and caused the peonies to really grow and bloom!  The flowers are bigger than they were in the past.  Visitors are awed how beautiful they were.  Rows and rows of beautiful, gleaming, colorful, gorgeous, fragrant peonies.
The 29th of June brings to a close the Annual Peonies on Parade at the Peony Farm.  Visitors who came late are saddened that they were seeing the tail end of the flowers in bloom, but still happy that they saw some still in bloom.  They were amazed at the wide variety of peonies!
Visitors who came toward the end of the season, were lucky to see almost the end of Princess Margaret,  Lavon. Bouquet Perfect,  and Avalanche.
My sister, Chris, and I gathered the last of the peony blossoms, which she arranged into my vases.  It is so great to see peony arrangements all over the house.
Deadheading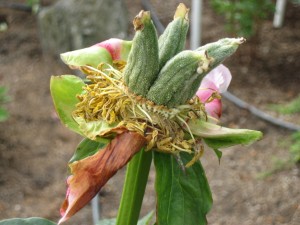 Spent flowers need to be deadheaded so the sun's energy can be harnessed for developing the roots more before going dormant.  Some people like for the peonies to go to seed.  However, not all peonies have fertile seed.  So, unless you know that the peony produces fertile seeds,  it's best to cut off the spent flowers to direct the sun's energy toward growing the root.
Deadheading is easy.  Cut just below the stem immediately below the flower.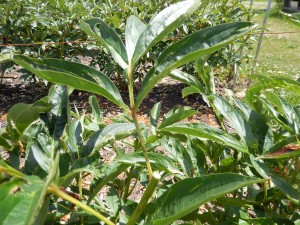 (Spent flowers cut just below the spent flower)
However,  I prefer cutting the stem in such a way that the shrub looks pretty (hiding where the cut is by cutting the stems longer till the cut is hidden in the bush).  Do this only if you have a big shrub.  Otherwise,  you wont have enough leaves to carry the suns energy to the roots.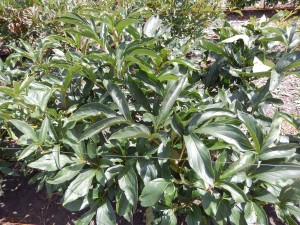 (Spent flower cut with some stems so as to hide the cut  in the bush, creating a much better looking shrub)
At this point, you can if you want, sprinkle a little bit of fertilizer.  Avoid the crown when doing this.  Use fertilizer with close to zero nitrogen.
This is the preparatory stage to Fall, when the peonies go dormant, where you will cut the stems to at least an inch from the ground.
Order your bare root peony now for Fall delivery.