Summer is that time of the year when Peonies continue to grow underground.    Although you don't need a lot of water, it is essential to water the peonies during these dry, hot months of summer.
Just at the end of the blooming season, Chris, my sister – harvested the rest of the blooming peonies and created some gorgeous arrangements with them.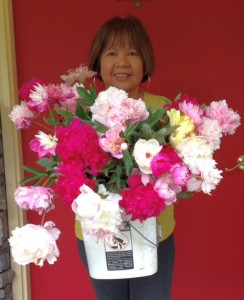 By the way,  for further information about the care of the peonies – you can go to our website at Peony Farm.
Also,  ordering peonies for delivery this Fall 2014 is still available at: Peony Gardens 24/7 Online Shopping Cart.